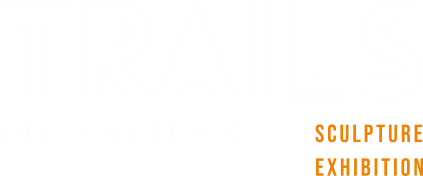 $10,000 Exhibition Awards
In its inaugural year, TRAILS invites artists to submit contemporary sculptures, up to 1m³ in volume, for a multi-location interior exhibition trail in and around Portland's commercial centre. It aims to promote and encourage artists, established and emerging.
Selected works will be exhibited and artists considered for a commission as part of a developing art trail.
TRAILS Sculpture Exhibition is hosted by Committee for Portland.
For further information on associated events including the Exhibition launch, artist talks and workshops, please visit: https://thisisportland.com.au/trails-art/events/
To apply, please read all conditions and criteria below, and download the entry form located at the bottom of this page.
Key dates
Exhibition: March 28 – May 2 2021
Entries Open: 1 November 2020
Entries Close: 5pm 12 February 2021
Announcement of selected works: 26 February 2021
Eligibility
For the purpose of TRAILS Sculpture Exhibition, sculpture is defined as a freestanding, non-site specific, three-dimensional object in any medium.
All entries must be the original work of the submitting artist/s and must have been completed within two years prior to the entry date.
Entries should not exceed 1m³ in volume, have a stable base and not exceed 50kg.
Artists may enter up to three works. However, a separate application form must accompany each entry.
Selection Process
Selection of entries for exhibition will be at the discretion of the exhibition's appointed curatorial team.
Approximately 40 works will be selected for exhibition, with three awards totalling $10,000.
1 x $6000
1 x $3000
1 x $1000 (People's Choice)
Selected artists will also be considered for an art trail commission.
Exhibition criteria and process
 All works must be available for the full exhibition period. Artwork delivery and collection details will be provided following the selection process. Acknowledgement of entry form and payment will be via email.
Artists selected for exhibition are responsible for the transport of their work to and from Committee for Portland. This  includes freight and transport costs in both directions.
Artists selected for exhibition will be required to supply high resolution images (2-5MB JPEG) of their final work as  well as other suitable material as requested to assist with promotion of the exhibition.
All works exhibited in the TRAILS Sculpture Exhibition will be for sale. Committee for Portland will deduct a commission of 30% from the sale price of any works sold through the TRAILS Sculpture Exhibition. Where appropriate, 50% of this commission will be paid to the artist's representative. The sale price listed on the entry form will remain as the final sale price on all promotional material if the artist is selected as an exhibitor.
All care will be taken when handling works, however Committee for Portland will not be responsible for loss, theft or  damage. Artists are responsible for the shipping and insurance cover of their artworks.
The placement of selected works within the exhibition will be at the discretion of the exhibition's appointed curator/curatorial team
Artists grant TRAILS Sculpture Exhibition and its licensees the right to reproduce their work and biographical material by  any means in any media for archival and promotional purposes. The artist and their gallery (if applicable) will be  properly acknowledged in such material.
While the Exhibition format is deemed Covid-safe, Committee for Portland reserves the right to cancel or postpone the exhibition, in which case the entry fees will be refunded.